What is Chiros Hub? #
Chiros Hub is a resource library for Chiropractors to help them enlighten patients and staff about the science of chiropractic. It was created by a team of chiropractors and scientists headed by chiropractor and Neurophysiologist Dr. Heidi Haavik. It enables you to run awareness campaigns about spinal function and chiropractic care.
Enlightened patients become lifelong customers of chiropractic!
What if I have forgotten my password? #
No problem. On the website click on the Login In button (top right of the screen).

On the login screen click on Lost your password?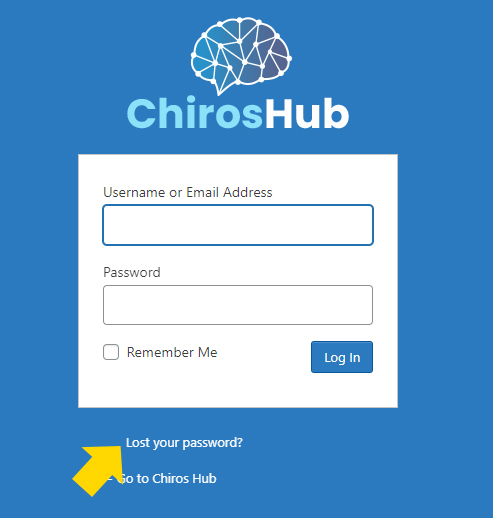 Enter the email address that you used to create the account. Click on the Get New Password button and a new login password will be emailed to you.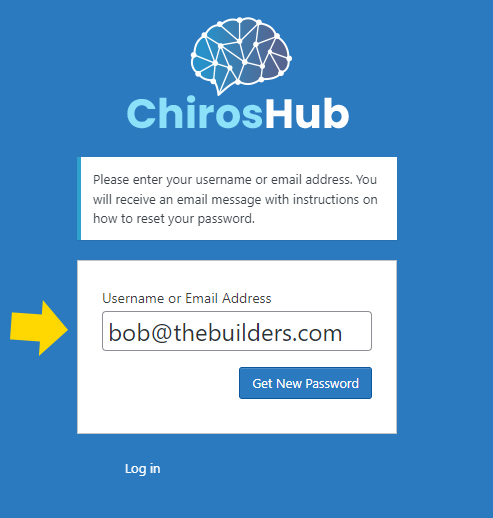 What is the difference between Silver and Gold Membership? #
Gold members have access to all five full-length waiting room videos. Silver has access to the Introduction to Chiropractic waiting room series only.
Gold members have full access to Chiros Hub Learning where they can allow their Chiros Assistants (and selected patients) to learn more about the benefits of a healthy spine. They also get access to 70+ classes on Chiros Academy to learn the Science of Chiropractic to confidently communicate the benefits of chiropractic care.
How often is the content updated? #
New research is being done frequently, the videos are updated with new information, and new videos are created based on topics members want their patients to learn more about. We create new content every month, whether in the form of a video, a social media snippet, a print and digital resource to share, or a research article summarised and professionally presented to share in the practice.
What topics are covered? #
We have a growing content library with a vast range of topics – all backed by evidence-based research studies.
We now have over 50 videos grouped into five categories to make it easier for patients to understand the benefits of chiropractic care as part of their patient care journey. The two main categories are the Introduction to Chiropractic and Benefits of Chiropractic Care series, then the content is more specific with Chiropractic and Children, Secrets of the Spine, and the Understanding Pain video series.
Future Topics
Topics to be covered in the future are based on the most popular requests from our members. Is there a topic that you wish us to cover in the future? Let us know.
Autism spectrum disorder and chiropractic care
Sports performance & Injuries
Chiropractic and Basketball
Musculoskeletal side effects
Intervertebral disc disease
Why is research so important? #
Properly conducted, properly analyzed scientific research studies provide us with facts. When we have facts to share with the public and other healthcare providers, this eliminates bias from the conversation. Theories, philosophies, and hearsay are less powerful than real scientific facts. Of course, they are important to us as individuals, but as leverage with the public, we need facts.
For almost two decades, our research team at the Centre for Chiropractic Research at the New Zealand College of Chiropractic has produced award-winning, cutting-edge research that has transformed our understanding of how chiropractic care works.

How many different languages are there? #
Currently, some videos are translated into eight languages, per the table below. We have created some one-off Icelandic audio versions for some videos, and if you would like these, please email support.
We are not looking at any further languages until we have finished completing the subtitles for these languages.
NEW

Print & Digital Resources Translated

We have now translated a series of print and digital assets into these eight languages as well.
How do I send videos by text? #
We recommend that you embed the videos on your own website and then if you wish to send a text, send a link as a text to the page on your website e.g. on Learning Hub we could send the video and associated content about Lower Back Pain as a text like this – https://learn.chiroshub.com/lower-back-pain/.
For members, we have mobile-optimized smaller file-size videos if you still wish to send a video by text (or share on mobile Apps like WhatsApp and Tiktok). Go to the page on ChirosHub with the video that you wish to send and scroll to the bottom of the page and click on the Download Video for Mobile Apps button (you must be logged in as a member to see these download buttons).